Back to Store
ACT-100® Specification for External Corrosion Protection of FRP Composite Steel USTs (F894)
All Products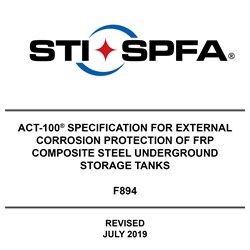 The ACT-100® Specification for External Corrosion Protection of FRP Composite Steel Underground Storage Tanks (F894) covers a method of underground exterior corrosion control for steel tanks. The method, termed FRP composite steel underground storage tank, (ACT-100®), combines two basic corrosion control approaches.
Topics include:
Compliance
General Requirements
Electrical Isolation
Tightness Testing
Application of Laminate
Completion
It is the intent of this specification to incorporate the technical gains and achievements from previous specifications and standards, while enabling new forms of proven FRP composite steel tank technology to be adopted through the establishment of Steel Tank Institute's Composite Test Procedure. The primary purpose of this specification is to establish FRP composite steel tank (ACT-100®) production procedures which are fully supported by quality assurance measures and proper installation requirements.
Revised: July 2019
Format: PDF
---