Back to Store
Steel Plate Engineering Data - Volume 1 and Volume 2
All Products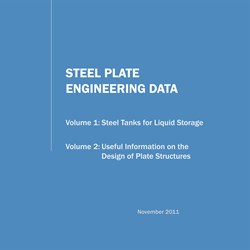 Steel Plate Engineering Data - Volume 1 and Volume 2 provides a design reference for the usual design of tanks for liquid storage.
Volume 1, "Steel Tanks for Liquid Storage," deals with the design of flatbottom, cylindrical tanks for storage of liquids at essentially atmospheric pressure.
Topics include:
Materials - General
Materials - Carbon Steel for Liquid Storage
Carbon Steel Tank Design
Stainless Steel Tanks for Liquid Storage
Volume 2, "Useful Information on the Design of Plate Structures," covers many facets of plate design that are generally applicable to many types of structures.
Topics include:
Flat Plates
Membrane Theory
Self-Supported Stacks
Supports for Horizontal Tanks and Pipe Lines
Anchor Bolt Chairs
Design of Fillet Welds
Inspection and Testing of Welded Vessels
Revised: November 2011
Format: PDF
---