Back to Store
Standard for Double Bottom Steel Storage Tanks (F051)
All Products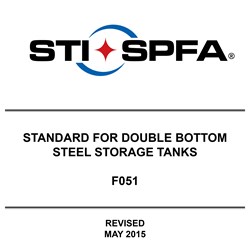 The Standard for Double Bottom Steel Storage Tanks (F051) covers manufactured steel storage tank in sizes up to 60,000 gallons and all ranges of shapes. Typical shapes include cylindrical horizontal, cylindrical vertical, obround and rectangular. This standard addresses the addition of an external second bottom for the purpose of detecting and containing product in the event of a leak in the bottom of the primary tank.
Topics include:
Design Criteria
Weld Joints
Monitoring Pipe
Monitoring Interstitial Space
Corrosion Protection
Tightness Testing
This standard for double bottom tank construction is based on the application of sound engineering principles and the combined experience of the STI membership. It represents a composite of data from users, manufacturers, regulatory authorities and consultants.
Revised: May 2015
Format: PDF
---