Back to Store
Specification for FIREGUARD® Protected Aboveground Storage Tanks (F941)
All Products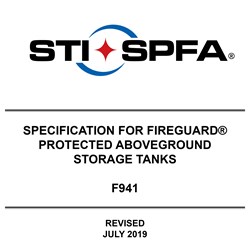 The Specification for FIREGUARD® Protected Aboveground Storage Tanks (F941) covers a method of thermally insulating an aboveground storage tank for the purpose of providing a two hour fire rating.
This design utilizes a double-wall steel tank with a monolithic insulation placed into the interstice of the tank. Both the primary and the secondary tank are equipped with emergency vents. It also addresses the inspection, testing, and installation of these tanks.
Topics include:
Compliance
General Requirements
Tightness Testing
Monolithic Insulation Material Requirements
Coating
Completion
Final Inspection
This standard is based on the application of sound engineering principles and the combined experience of STI membership, which includes state-of-the-art manufacturing considerations. It represents a composite of input from users, manufacturers, regulatory authorities and consultants.
Revised: July 2019
Format: PDF
---