Back to Store
Recommended Practice for Hold Down Strap Isolation (R891)
All Products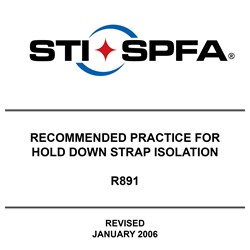 The Recommended Practice for Hold Down Strap Isolation (R891) is based upon its application in cathodic protection systems where the maximum driving potential is 3 volts. In situations where the driving potential exceeds 3 volts, the minimum electrical resistance criteria should be adjusted as determined by the applied potential and current levels.
Topics include:
Isolation Material Specification
Isolation Material Installation
This recommended practice is available for general use by those interested. Every effort has been made to ensure that the information contained in this practice is accurate and reliable.
Revised: January 2006
Format: PDF
---