Back to Store
RP for Cathodic Protection of Underground Piping for Liquid Storage and Dispensing Systems (R892)
All Products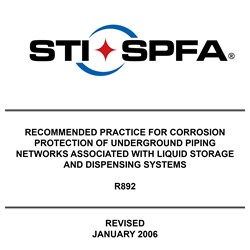 The Recommended Practice for Corrosion Protection of Underground Piping Networks Associated with Liquid Storage and Dispensing Systems (R892) was developed by the Steel Tank Institute to assist owners and installers of underground and aboveground tanks in the design, installation, and monitoring of corrosion control systems for underground metallic piping.
Topics include:
Dielectric Coatings
Types of Coatings
Cathodic Protection
Protection System Design Parameters
Cathodic Protection System Design Calculations
Protection System Installation
Monitoring and Maintnance
This recommended practice was developed under the advisement of the Steel Tank Institute Technical Committee. The support and review of this committee was important to the release of this document.
Revised: January 2006
Format: PDF
---