Back to Store
Cathodic Protection Testing Procedures for sti-P3® USTs (R051)
All Products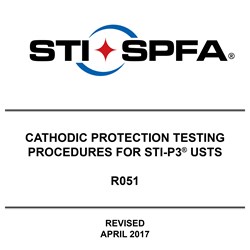 The Cathodic Protection Testing Procedures for sti-P3® USTs (R051) are based on the application of sound engineering principles and the combined experience of the STI membership. It represents a composite of data from tank owners, manufacturers, regulatory authorities and cathodic protection testers.
Topics include:
Equipment Requirements
Reference Electrode Use, Care, and Maintenance
Tank Testing Procedure
Pass/Fail Criteria
Continuity Testing
Record Keeping
Troubleshooting Proecdures
The requirements in this Recommended Practice are a minimum level of requirements which must be followed. Local or state regulations may have additional requirements that the tester must also follow. Examples of additional requirements include specific forms and additional tank-to-soil potential readings.
Revised: April 2017
Format: PDF
---